| | |
| --- | --- |
| Working visit | |
Working visit in Poland
The so called working visit was held in Prostki from 23 November to 27 November. What did we do there?
Two teachers of our school visited our Polish partner school to have a talk with our colleges about the project:
about the dates and the content of the student exchange;

about financial issues;

about travelling, accomodation and board;

about our work: what are we going to do till April together and separately;
We were interviwed by the local newspaper and we talked to the headmaster of the
school about our further plans.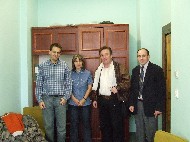 Six lesson were given to Polish children. They learnt Hungarian language, poems,
children games and songs.