US Press Kit to the album Spirit Of Eden
EMI-Manhattan Records

TALK TALK
Talk Talk have released a grand total of three albums in six years. Never interested in following
the conventional route to success, Talk Talk positively defy any prevailing trends in the music
business. Their new album SPIRIT OF EDEN, which took a year to record, proves to be no
exception.
"It's true that a lot of things I've done are a reaction against rather than being in line with what's
happening around me," says Mark Hollis, singer, keyboard/guitar player and co-writer for the band
"This album, SPIRIT OF EDEN, is quite definitely a reaction against what's going on in music at
the minute."
For such an uncompromising band and one who is still not widely know to the record-buying masses,
it is somewhat surprising to discover that Talk Talk's last album, THE COLOUR OF SPRING, went
gold in England and across most of Europe.
Talk Talk formed in 1980 when Mark's brother Ed, manager of Eddie and the Hot Rods, introduced
him to drummer Lee Harris and bass player Paul Webb. Ed brought them into the studio to work on
some new demos of Mark's songs and after a week they realized they weren't just a session gang,
they were a band. Soon, Simon Brenner joined to play keyboards.
Their first album, THE PARTY'S OVER, released in July 1982 did well, selling over a quarter of a
million copies worldwide. Two singles, "Today" and "Talk Talk," were both hits in the U.K.,
American radio interest in the latter leading to a major US tour with Elvis Costello in August and
September of that year.
Talk Talk took their turn on the treadmill and seemed to have enjoyed it in many ways. However,
after a year, Talk Talk stepped off and asserted the pattern of life and work they wanted and
needed to produce music that pop columns. It would have terrified a group with more ephemeral
ambitions. But Talk Talk would not be rushed.
The band's second album, IT'S MY LIFE, took seven months to record. The effort cost them Simon
Brenner, but introduced them to producer Tim Friese-Greene, who co-wrote several tracks ("It's
My Life" and "Dum Dum Girl") with Hollis, as well as played various keyboards. Crucially,
Friese-Greene brought an artistic approach to production, rather than getting bogged down in
technique and the obsession with perfect pitch and beat, which the band had met before and loathed
Just after the release of IT'S MY LIFE, Hollis summed up the development and growing maturity of
Talk Talk, "The first LP was simply a process of recording us as we were, the songs went into the
studio with us, but the arrangements were far more flexible. We let the arrangements develop around
the songs, everything was far more fluid."
IT'S MY LIFE proved to be the making of Talk Talk. Within a few months the LP had gone gold in
every European country except Britain and achieved a Top 40 position in America's Billboard chart.
The 1986 release, THE COLOUR OF SPRING, which took a year to record, saw the band work
on an individual basis with each of the LP's many guest musicians, urging them to improvise within
the space provided, choosing the best takes, and piecing the final arrangement together. Hollis
described then how he viewed THE COLOUR OF SPRING as a step on from IT'S MY LIFE.
"We used synths on the last album because we had budgetary considerations to take into account.
We used them to emulate orchestral and choral parts. The success of IT'S MY LIFE has meant
that for THE COLOUR OF SPRING we could afford to use an orchestra or choir where we felt
it was needed and yes, I much prefer the real thing."
European audiences were again quick to respond to the music of Talk Talk and in Britain, with the
help of "Life's What you make It," reaching Number 16, THE COLOUR OF SPRING sold over
100,000 going gold.
Now, Talk Talk's latest, SPIRIT OF EDEN, is again very much a progression from past endeavors.
The involvement of Friese-Greene, growing with every album, sees him a co-writer and
co-producer with Hollis on every track. Hollis once described how the two work in the studio,
"We work in a small orchestral format, much in a way that Miles Davis and Gil Evans did. Classical
music is very important to the way this band sounds. Both Tim and I admire film scores written
around the '30's and '40's; like Delius and people of that same impressionist movement that Satie
was in."
SPIRIT OF EDEN is intense music; emotions in sound. At the heart are simple melodic sounds
delivered with Talk Talk's particular brand of raging restraint, but they give time and space to a
small orchestra's worth of other players, take any risk that needs taking - dead stop, discord
excursions on the edge of audibility.
Their themes range from the Garden of Eden to heroin addiction, a distance covered naturally and
without strain because of the depth of feeling in every moment. From love and grief, gentleness and
anger, SPIRIT OF EDEN is an enthralling display of power under pressure.

August, 1988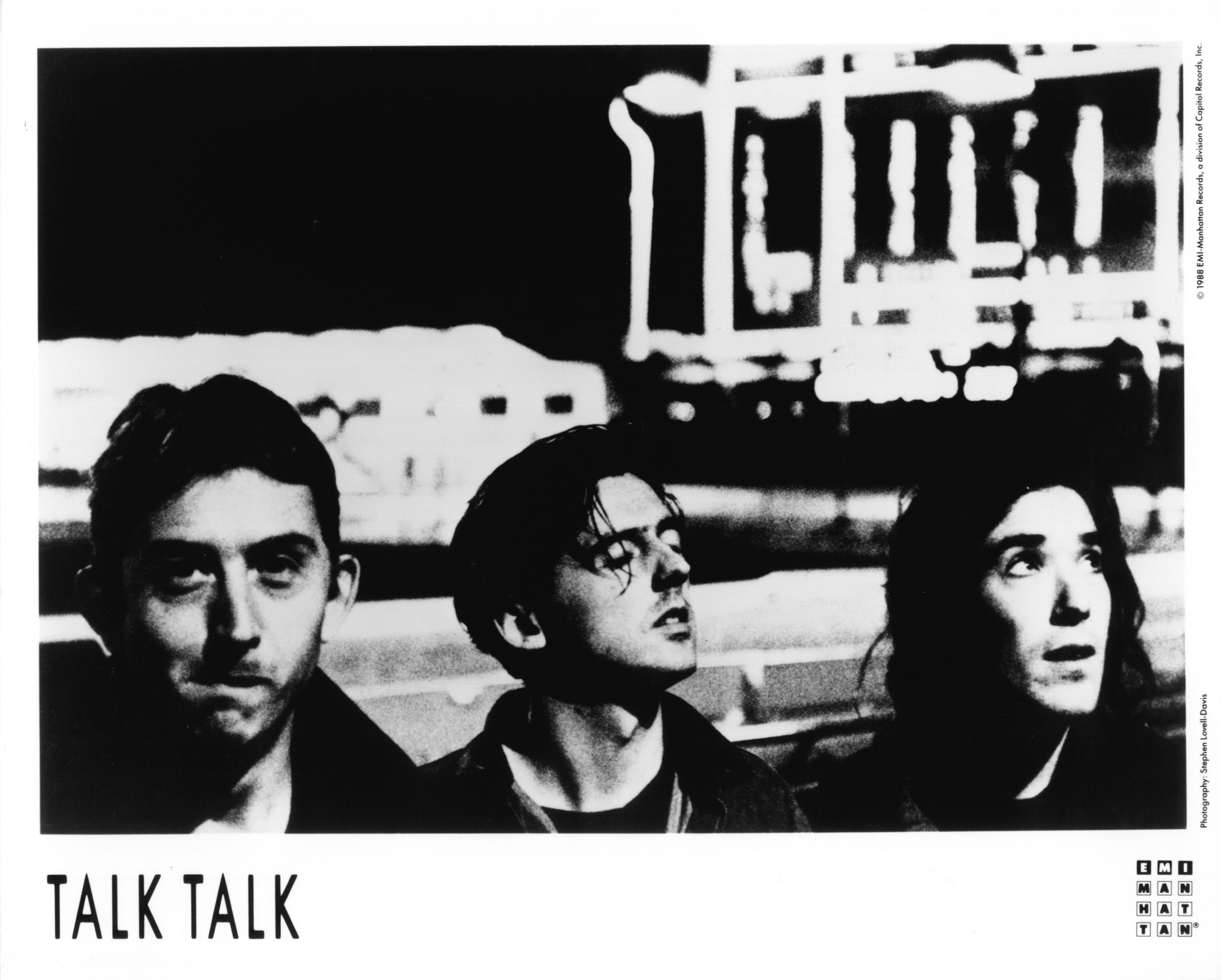 Photography: Stephen Lovell-Davis



---