1 Night in Paris DVDrip

PassGuide v2
Congratulations and thank you for purchasing PassGuide v2 you will not be disappointed! Just follow the instructions below and in a few minutes you will be getting more passes then you know what to do with.

Step 1. Download mIRC or Snak
Below are links for the most popular IRC clients for PC and MAC, both are free! Simply download and install the appropriate IRC client.
They will say you need to register after 30 days but trust us you can keep on using them as long as you want without registering.
http://www.mirc.com/ <---PC
http://www.snak.com/ <---MAC
Note: For MAC users the images in this guide will be different but the instructions are the same.

Step 2. Configure IRC client
Fill in your Name, e-mail, Nickname and Alternative. Leave all other options alone and hit OK. Also make sure ( EFnet: Random server ) is selected in server options.
If you are unable to connect to a random server try and connect to the other EFnet servers in the servers list.
Try each one until you find one that works. Also let them try and connect a few times before moving on to the next one.
You can also find more channels on other networks by following the link below.
Just remember to click on the ---> irc:// <--- part and not the ---> #xxxpasswords <--- part of the link. Also when you click on a irc link it will automatically add it to you servers list.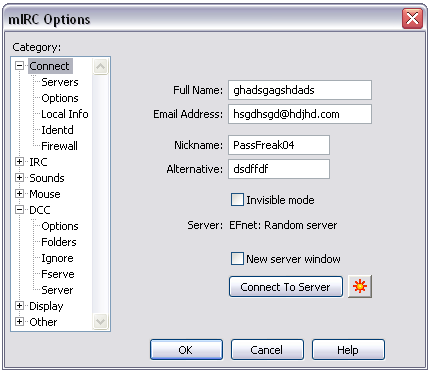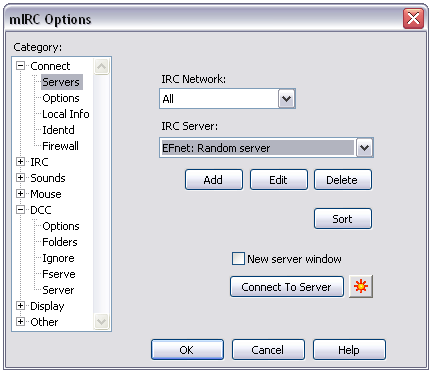 Step 3. Connecting
Hit the connect button and wait for mIRC to go through the connection process. When a connection has been established the channels folder will open. Close the channels folder and go to the next step.

Press the List Channels button to open the List Channels search. Type pass or xxx in the Match text: field and hit Get List. This will open the Channels window which will list of all the channels that have the word pass or xxx in the title.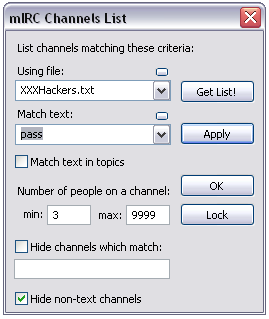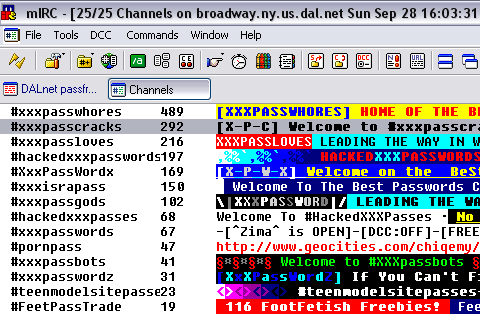 Step 5. Joining a channel
To join channels simply double click on the channels name. You can join more then one channel at the same time. That means you can type your search in 3 channels and get over 20 different passes returned.
Step 6. Searching for passes
Most channels use a common search command " @find " So to search for a site you would type @find some site. Then hit enter and let the passbots return their results.

Step 7. Search results
Each passbot will return its results in a new window. Bots that have found a match will blink red. Click on a passbot window and just double click the hyperlink returned.
UPDATE: The latest Internet Explorer patch now prevents direct logins. If you have installed this patch we recommend you switch to another browser such as Mozilla. Be sure to make it your default browser.