Precki, Thursday 30 October 2008 - 01:05:13
Ebben a részben egy Debian GNU/Linux 4.0 telepítését mutatom, lépésről lépésre, képekkel illusztrálva, hogy a még teljesen kezdő, leendő Linux-felhasználók számára is mindez könnyen menjen.
Kezdjünk is neki ... A telepítést egy virtuális gépen hajtom végre, ám ez semmiben nem különbözik egy normál telepítéstől, a lépések megegyeznek.
Ebben a részben a telepítés során csak egy Debiant telepítünk, tehát más operációs rendszer nem lesz a számítógépen.
Az rendszert - mivel ingyenesen használható - letölthetjük az internetről:
http://cdimage.debian.org/debian-cd/4.0_r5/i386/iso-dvd/
. Ezen az oldalon találhatunk 3 db 4 GB-nál nagyon DVD-kép fájlt (ISO). Ezekre lesz szükségünk, bár jobbára csak az 1-es DVD-re. Ezt töltsük le, majd DVD-képnént írjuk ki egy DVD-re. Ezt követően már valóban kezdődhet a telepítés.
Amennyiben a DVD-meghajtó van beállítva elsődleges bootolási eszköznek, a számítógép indítása során már a Debian-telepítő indul majd el.
(Minden képen fekete keret látható, ez a felbontás miatti különbség miatt van. Ez nálatok nem valószínű hogy így van, nálam is csak a virtuális gép miatt.)
A telepítő indulása előtt a következő képernyő fogad minket: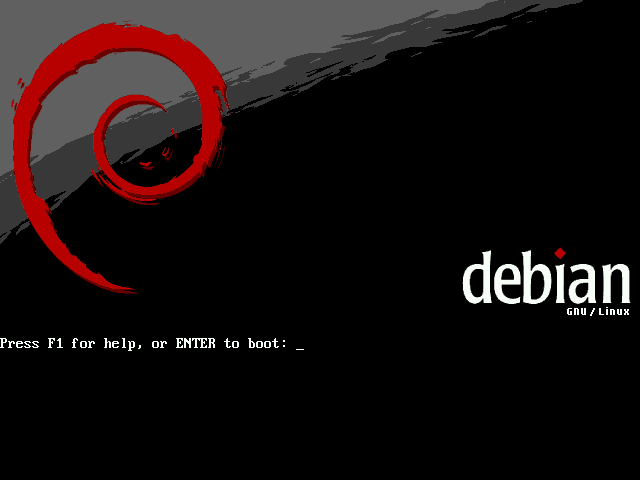 Üssünk egy ENTER-T és elindul a telepítő!
Ez követően ki kell választanunk a rendszer nyelvét ...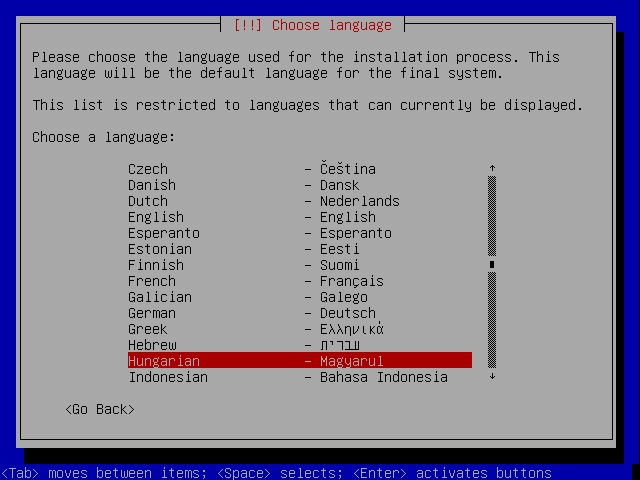 Majd a billentyűzet nyelvét ...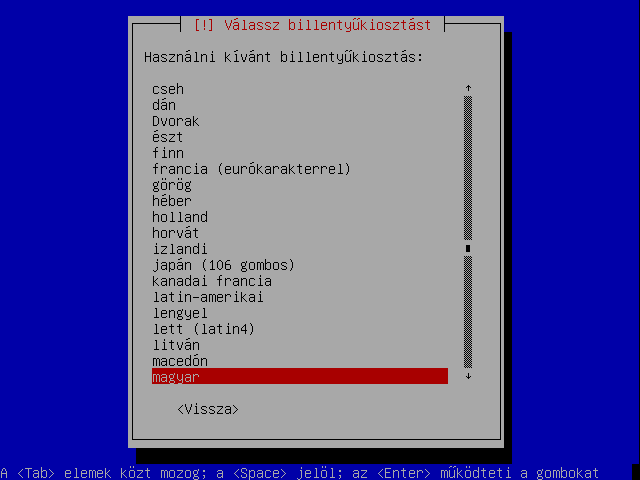 Ezek után a telepítő átnézi a DVD-lemezt, majd betölti az összetevőket. Ha ez megtörtént ellenőrzi a hálózati kapcsolatot. Amennyiben DHCP-kiszolgálón keresztül kapjuk IP-címünket, nem lesz semmi dolgunk, mivel a hálózat automatikus felismerésre kerül. Ha viszont fix IP címünk van akkor a kapcsolat információit kézzel kell beállítanunk. Ezt a rendszer felajánlja számunkra.
Ha már van hálózatunk, akkor be kell állítanunk a gépnevet ...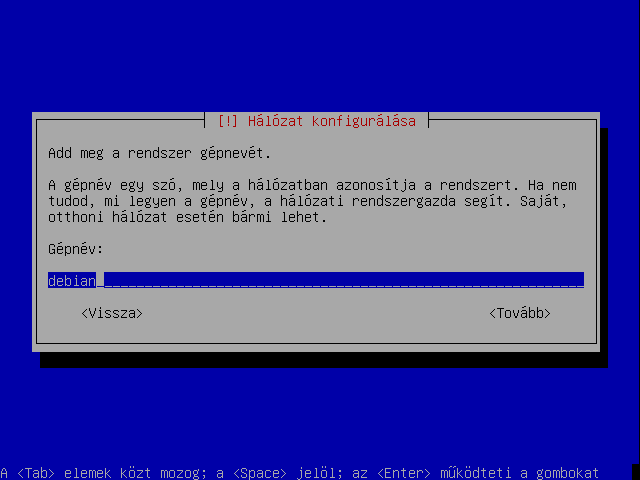 Otthoni használat esetén a tartománynevet hagyjuk üresen: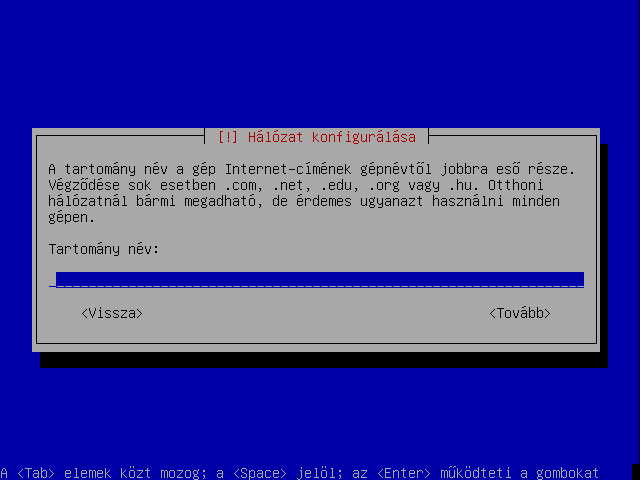 Egy kis lemezelemzés után indul a partíciónáló. Mivel csak ez az egy rendszer lesz a gépünkön, ezért nyugodtan választhatjuk az egész lemez felhasználását.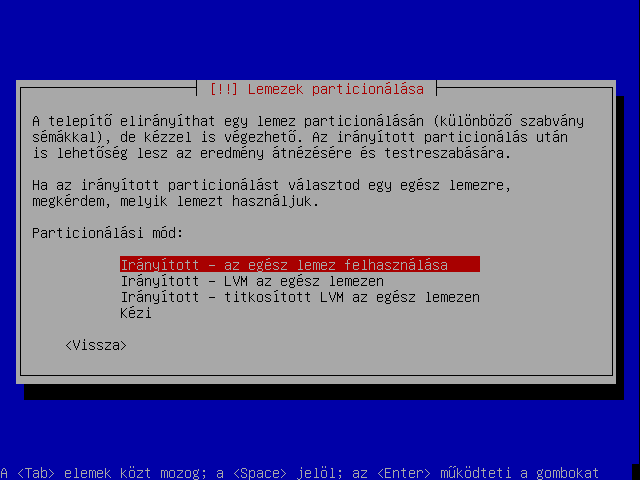 Ki kell választanunk azt a lemezt, amire a Debiant telepíteni szeretnénk.
Figyelem, erről a lemezről minden eddigi adat el fog veszni!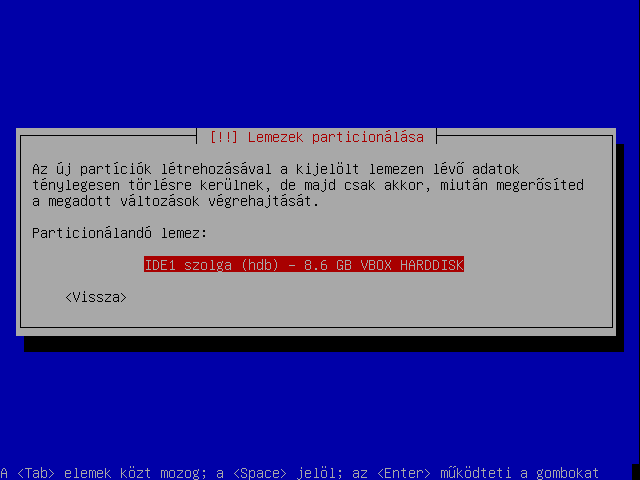 A rendszer egyes részeit akár külön partíciókra is tehetjük, de kezdőknek ajánlott, ha minden egy helyen van.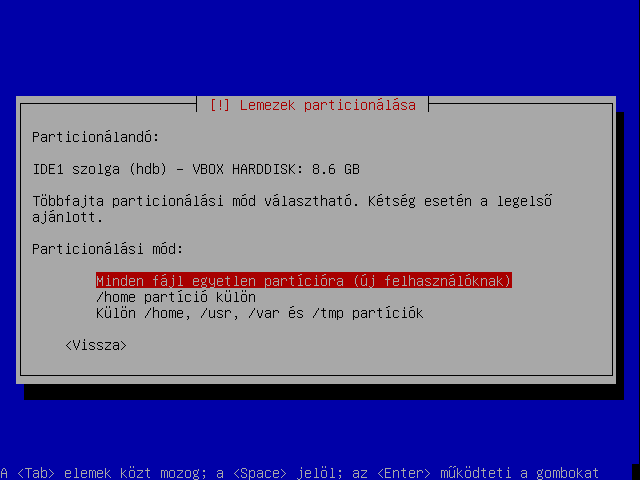 Ezt követően a telepítő létrehoz egy ext3 kiterjesztésű partíciót magának a rendszernek és egy swap kiterjesztésűt. (Hogy ennek mi is a funkciója, arról majd később.) Ezeket a módosításokat el kell mentenünk: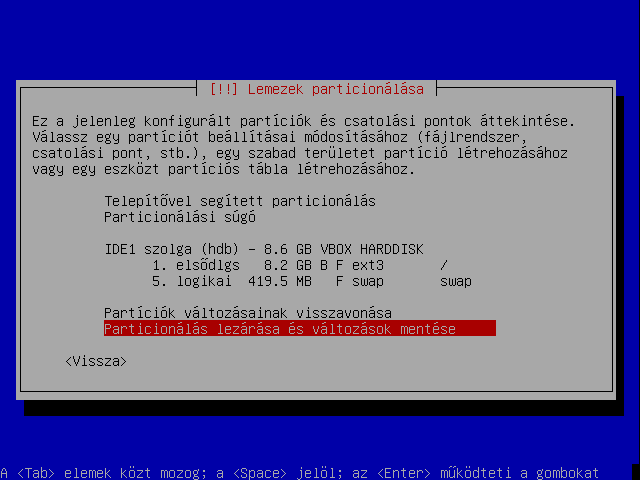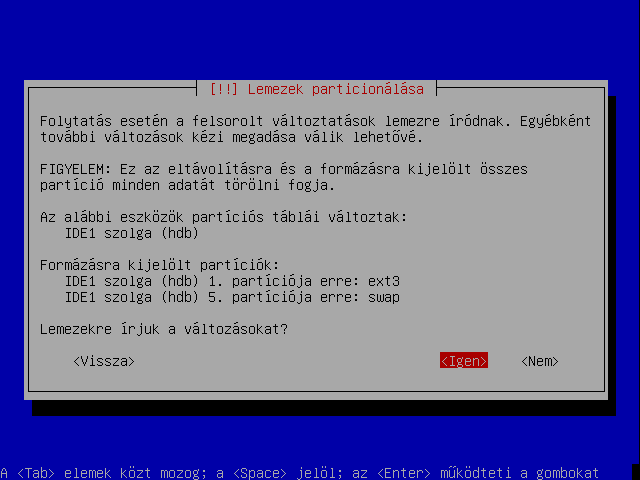 A partíciók formázásra kerülnek, majd ha ez megtörtént be kell állítanunk a rendszer rendszergazda jelszavát, melyet a biztonság kedvéért kétszer kell megadnunk.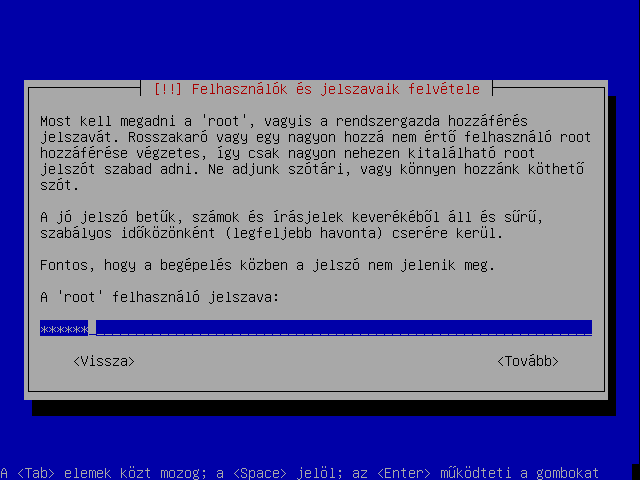 Meg kell adnunk teljes nevünket is (vagy legalábbis valami hasonlót :-)).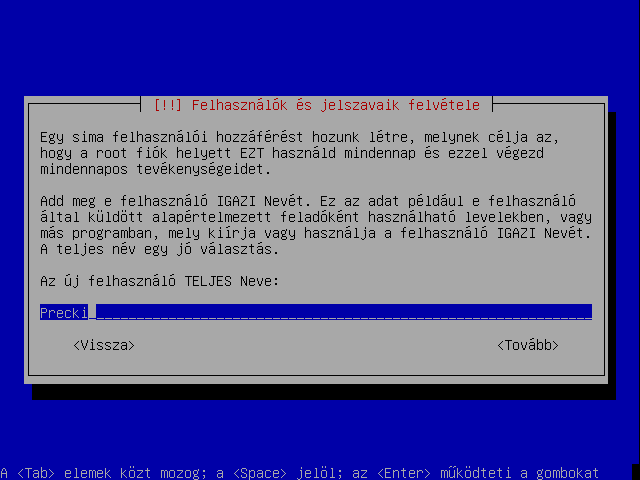 Majd egy felhasználónevet és hozzá jelszót (most is kétszer)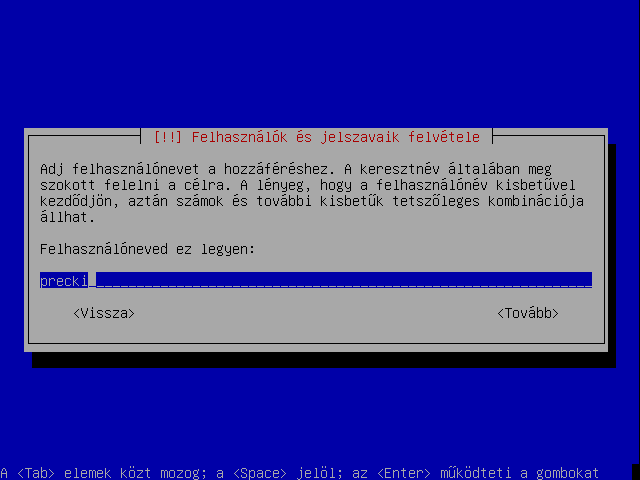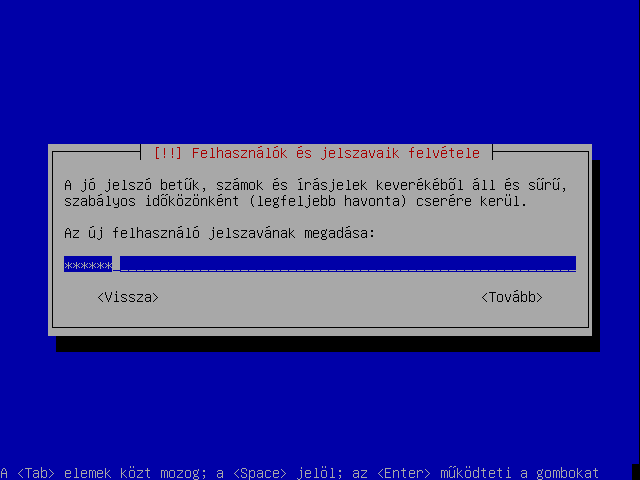 Aztán kezdődik az alaprendszer telepítése. Ez a gép teljesítményétől függően, hosszabb ideig is eltarthat.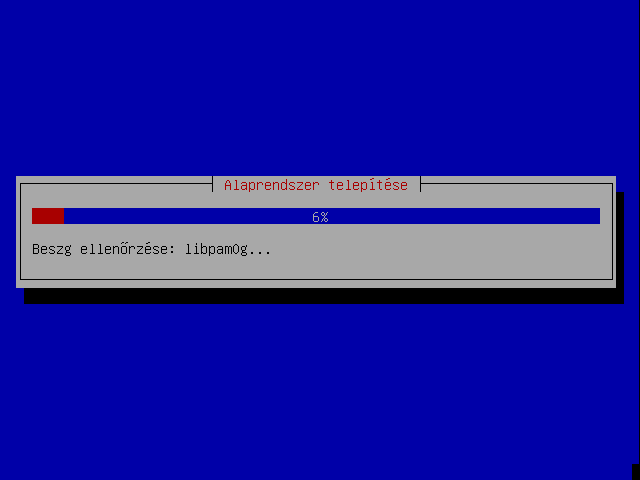 Be kell állítanunk a hálózati tükröt: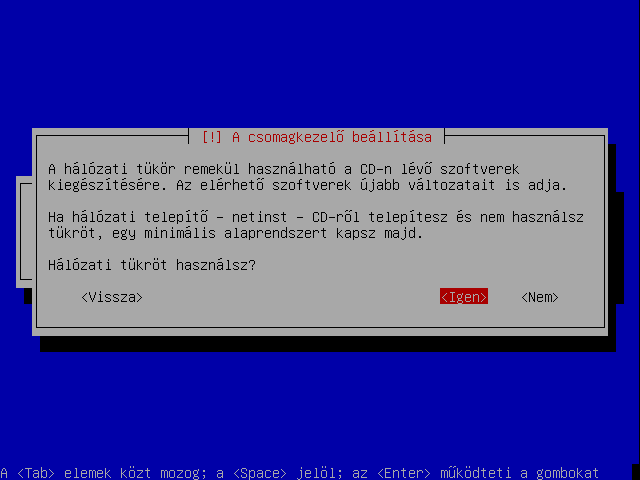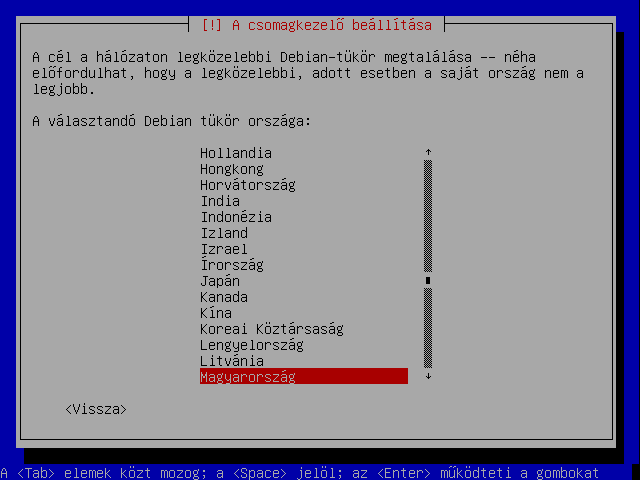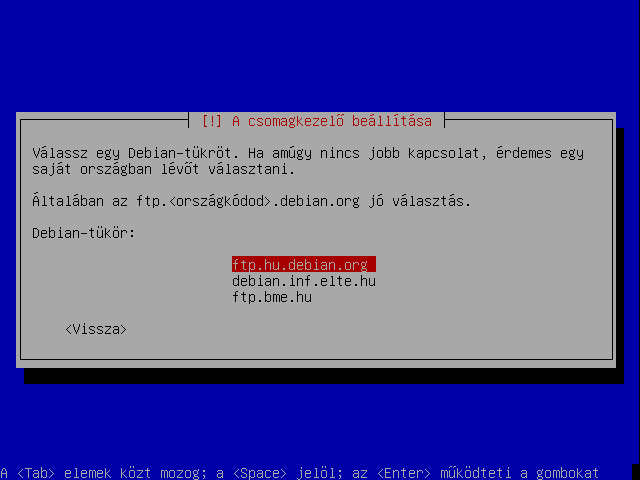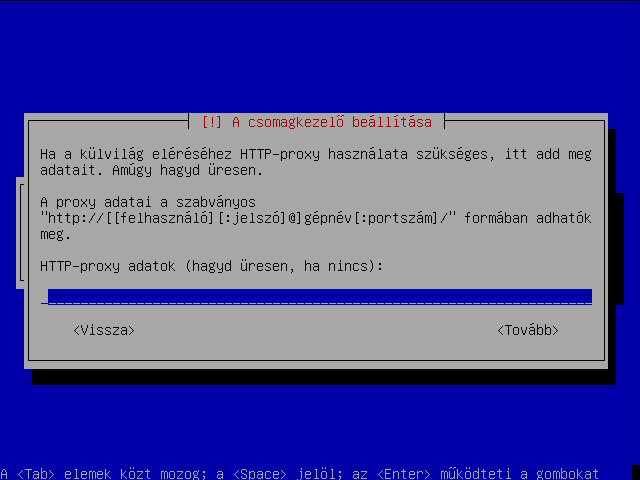 Majd indul a tükör átvizsgálása: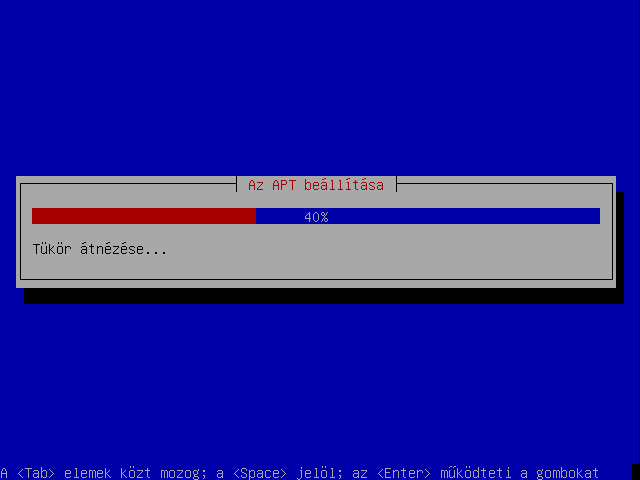 El kell döntenünk, hogy rész szeretnénk-e venni a csomaghasználat-felmérésben. Én nem szoktam részt venni, de lényegében teljesen mindegy, hogy mit állítunk be.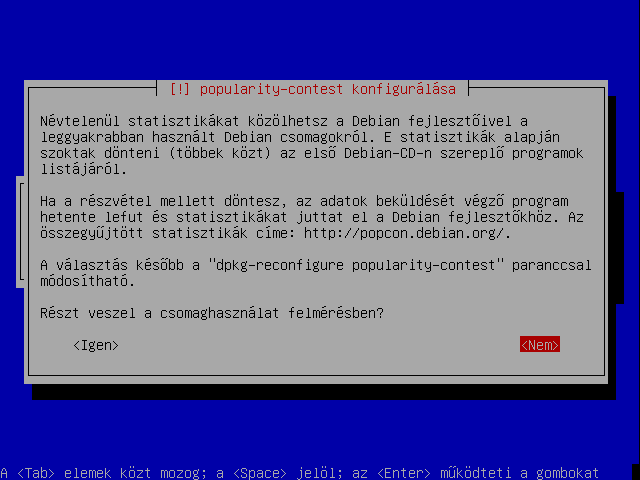 Ki kell választanunk, hogy milyen szoftvereket szeretnénk használni. Otthoni használatra a szabvány rendszert és az asztali környezetet - laptop esetében asztali környezet helyett laptopot - kell kiválasztanunk. Egyéb szoftvereket (pl. webkiszolgáló) a SPACE-szel tudunk kiválasztani.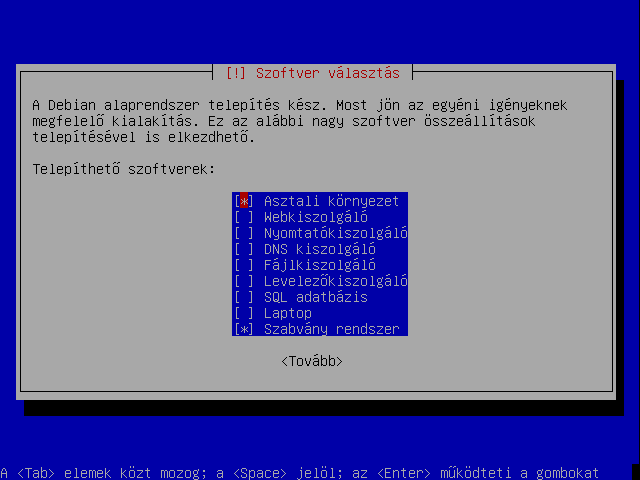 Ezt követően kezdődik a szoftverek letöltése és telepítése, mely hosszabb ideig eltarthat. (A szoftverek egy részét a telepítő internetes tükörről tölti le.)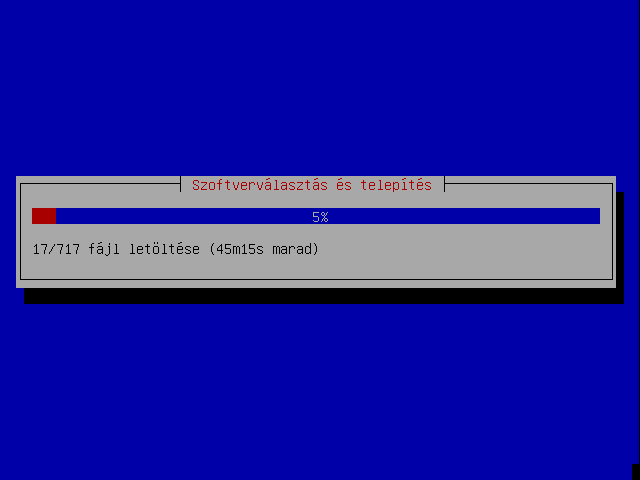 Válasszuk ki, hogy mely felbontásokat szeretnénk telepíteni.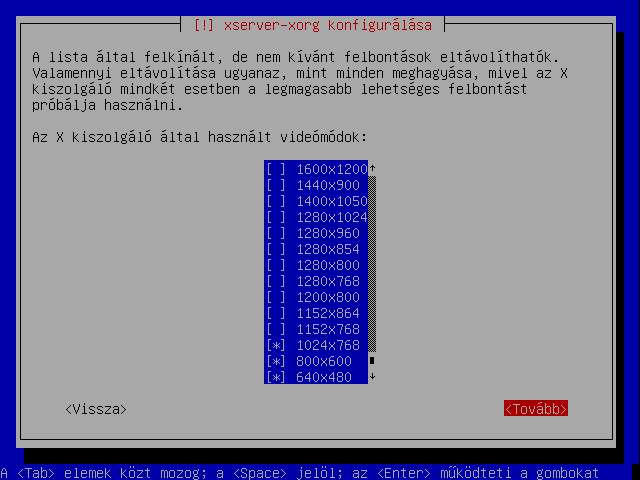 Telepítenünk kell a GRUB rendszerbetöltőt.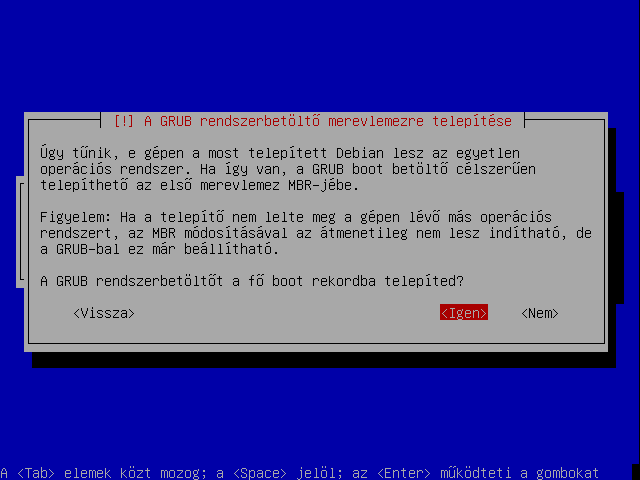 A telepítés befejeződött. Távolítsuk el a lemezt a meghajtóból, majd üssünk egy ENTER-t. Ezzel újraindul a számítógép.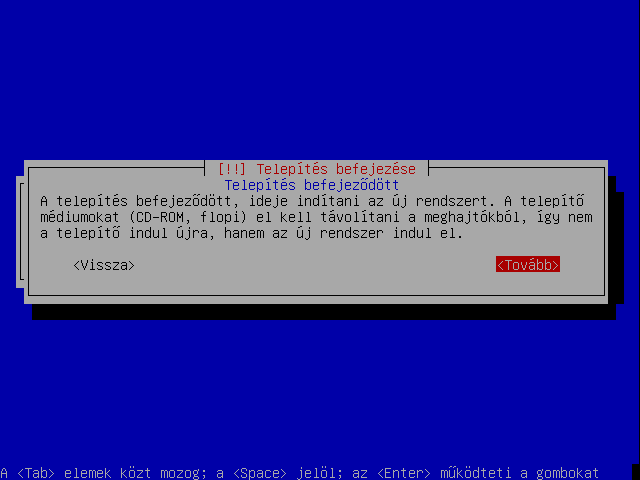 Az újraindulást követően már bejelentkezhetünk újonnan telepített Debian rendszerünkbe a telepítés során megadott felhasználónévvel és jelszóval.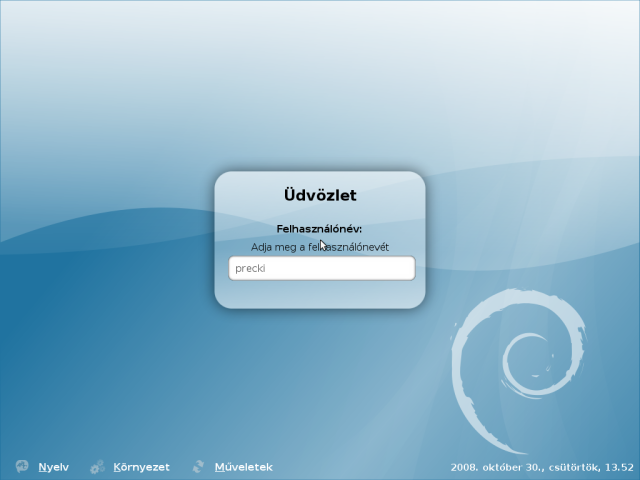 Hát ez volt egy Debian-telepítés folyamata. A telepített rendszer megismerésével majd később foglalkozunk ...