"I love to heat you!" - Waldorf blofeld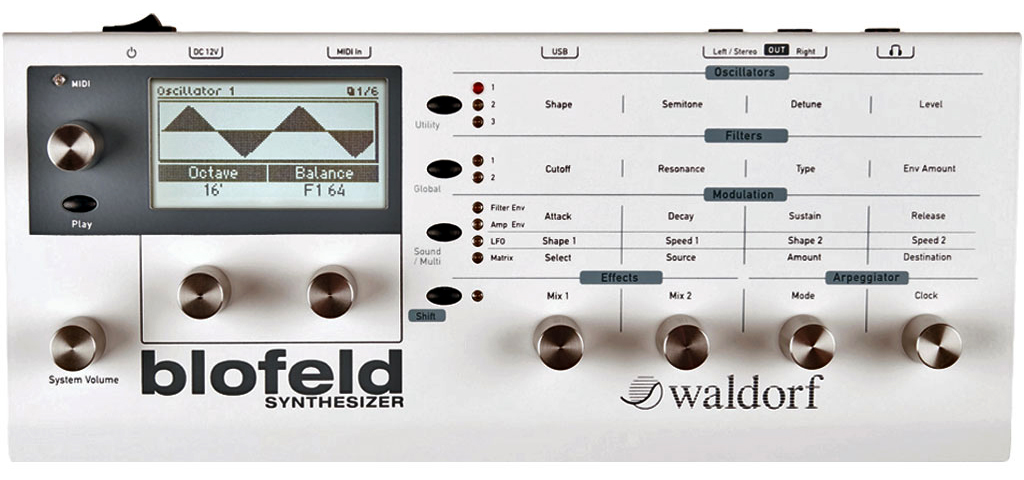 Hmmm... The blofeld...
I think the Waldorf blofeld is the most divisive synth on the world. A lot of people buy it, heard it and sold it in a few months.
A lot of people can't imagine their life without blofeld.
And here is me...
A few years ago I had got a blofeld, then I sold it. Then now I buy one again...
Why?
Becouse I learned a lot in the last years about sound design, synth programming, etc.

I learned how to and why love the synth what I heat! :D

Pros as I think:
Build Quality/Form Factor: A metal enclosure with 7 endless metal knobs. The encoders are stable and/or easily repairable today. The metal enclosure is heavy, so my Blofeld is sit stable on any surface.
Quick Editing – The physical parameter matrix with default mappings set to common parameters is good visible, easily visible.
Multi mode: it's open the possibilities for the layered younds.
16 slots modulation matrix: even the LFO's self modulating ;)
Sonic palette
1024 patch memory
Cons as I think:
Multi mode is buggy.
The FX usage in multi mode is horrible!
The max. 25 of poliphony not enough for 16 multimbral ... Except when you use 16x mono/1 OSC sound... :-D
Bad sync... The LFO's tempo sync is buggy. The external clock source following is incidental.
There is no EQ at all.
More then 100 Euros for the SL License on the desktop modells!?!?!?!?
There is no MIDI OUT/THRU on desktop modells!
There is no individual OUTs...
There is no official librarian. Third party only.

Here are some tips for a better sounding blofeld synth on your desktop:
Volume
The most common parameter what is wrong in a blofeld patch is the volume. Usually it has some value, and some velocity value in the amplifier section.
The velocity sensitivity is a two step parameter in the blofeld. On of is above, and the other is in the Amlifier Mod section.
For example if you want a drum/perc/piano like sound you want a loud sound in full speed note on and a quiet at a slow note on.
Set the Amplifier for that:
- Volume: 0
- Velocity: +64
- Mod Source: Velocity
- Mod Amount: +64
Usually it's good for pads too... Now
Worth to buy these soundsets (IMHO)
License SL (With License SL you got:)
&nbsp &nbsp -Alien-Space-Collaborative
&nbsp &nbsp -TechnoHouse-Bank

-Lanthans Soundset
-Pulsophonic - Sounds of the universe
-Waldorf Blofeld - Analog Voltage Soundset by Don Solaris
-Waldorf Blofeld - Electric Body Machinery Soundset by Ari Ahrendt
-Blofeld - Monster Pack MKII
-Synth Attack

Mine soundsets:
&nbsp &nbsp -The Deep space soundset by LiPI
&nbsp &nbsp -The Deep space II. soundset by LiPI
&nbsp &nbsp -The Deep Ambient Soundset by LiPI
&nbsp &nbsp -The Deep Ambient II. Soundset by LiPI
&nbsp &nbsp -The Hubble - a Space Ambient soundset by LiPI