My first tweak was an Onkyo DX7711 Integra CD-player.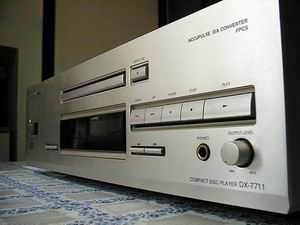 Left
This is the Onkyo DX7711 Integra CD player inside, originally.

Left
The original power cord and AC inlet.

Right
The modified AC inlet: IEC socket with filter
Toroid transformer also added for analog stage.
The transformer is rated for 60VA, 2x15V

Left
The disassembled PCB

Right
In the middle of upgrade. Most of the resistors and Silver Mica capacitors installed. ELNA Cerafine output capacitor also installed, muting transistors out.

Left
The original analog stage.


Right
The schematic of analog stage (one channel shown)

Left
The opamp modules assembled to PCB.
The opamp is OPA627 AU

Right
The assembled opamp modules offline.
Each module consist 2 pcs OPA627 and 2pcs 100nF 0805 size ceramic capacitors.

Left
The back side of the PCB. For many capacitors (Silver Mica and Elna Cerafine) only here was enough place.

Left
The DACs and receiver IC are shielded by 3M shielding tape (# )

Right
The upgraded PCB, before assembly

Left
The assembled CD player

Right
Some details...
What is done additionaly?
- All PS diodes replaced with OnSemi MUR series ultrafast diodes
What is left?
- DAC clock modification (kwak Clock 7 probably)
- Regulator upgrades (Walter Jung regulator)
- PS capacitor change (Black Gate)
UPDATE COMING SOON!!!

Components:
- Elna Cerafie capacitors
- Holco H2 and H2 audiophile resistors
- AD825 opamps
- MUR815 high ultrafast diodes
- Toroidal transformer for analouge stage
- IEC filter AC inlet
Future plan:
- Pass D1 analouge stage... :)

All the things here only for DIY Audio hobby. Not for commercial use!