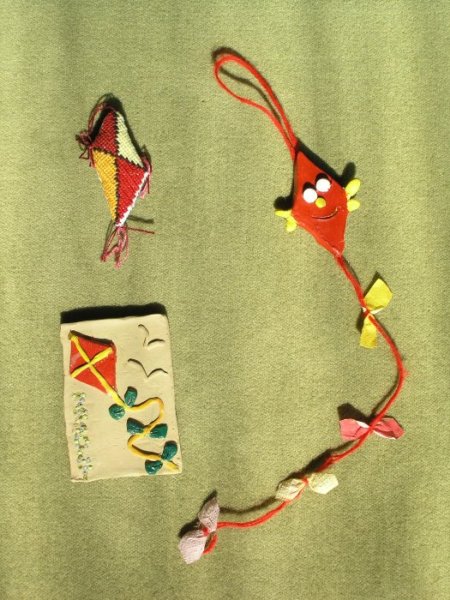 MY NIECES & NEPHEW'VE GIVEN ME THESE ARTIFACTS; THEY MIGHT BE THE LOGO OF OUR GUILD

KITES I'VE MADE
(A possible short kite history of mine)
Our father built us our first kites before I was 10. It was a "classical" hexagon. He used reed, (Hungarian language Bucharest, Romania) newspaper, flour paste and hemp string. Then my elder brother and I tried our hands, being assisted by our father.
(1 or 2 hexagonal pix here)
I was about 13, living at Grandmother's, close to the Hungarian border (in Bihor County, Romania; a young Romanian bank clerk - living in the neighbourhood - built a mighy basic box kite. It flew very stable and high; police soon arrived questioning the young man about his intentions flying a kite close to the border.
Much later, when a college student, studying English and Romanian, I came across a British magazine. In its Nostalgia/Pastime page I found "Kites and how keep them aloft ---Celia Haddon reports some words of wisdom from David Pelham, kite-maker extaordinary, who says that the enthusiast who really knows what he's doing can get a kite in air
in almost any weather
."
The book review was accompanied by a figure: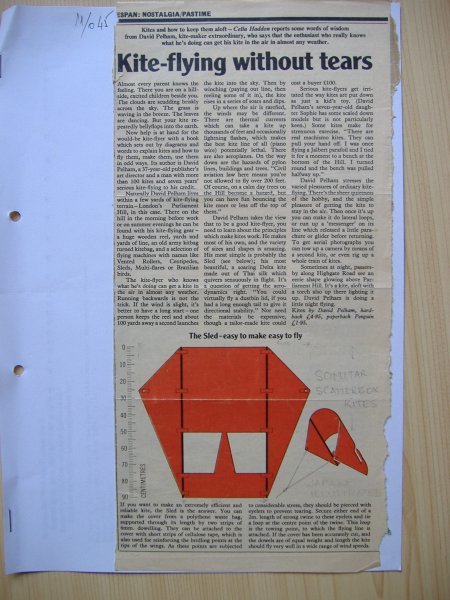 Then I built my first Sled Kite.
When a teacher my pupils and I built sled kites.
Then we were given precious some pieces of advice by our grest leader, and two of the kids & I built a basic box kite. We were supposes to build something like a technically sophisticated gadget. Our was not one of those. We were laughed at by our headmaster - he didn't realise what is behind a kite. Anyway, later both of guys began their university studies, something related to aircrafts. One is still in the business.
In 1982 Mr István Bodóczky's book was published
In 1983, a kiting weekend was organised on the Hűvösvölgy slopes (Danube's right hand bank's hilly part of Budapest, Hungary). Well, here are some documents related to the event: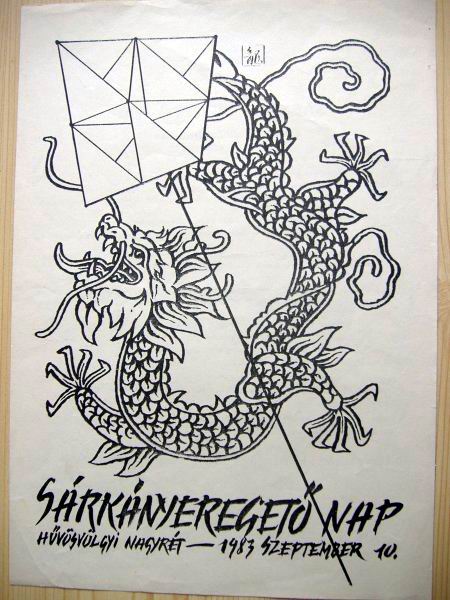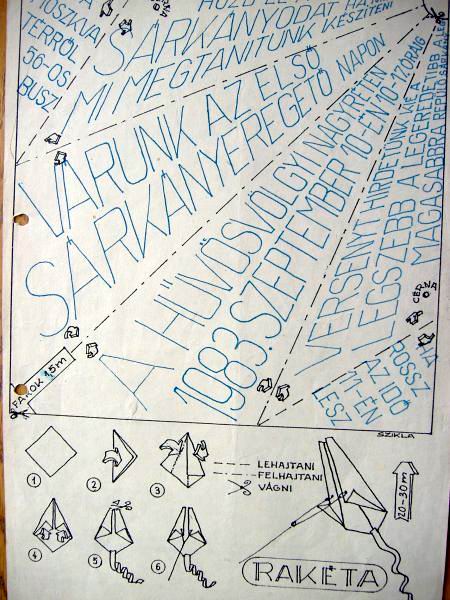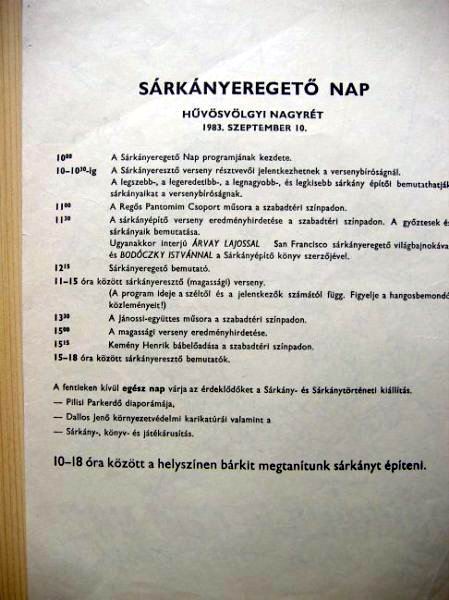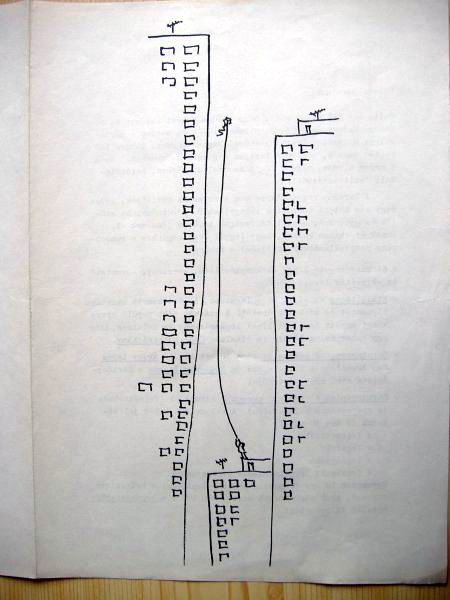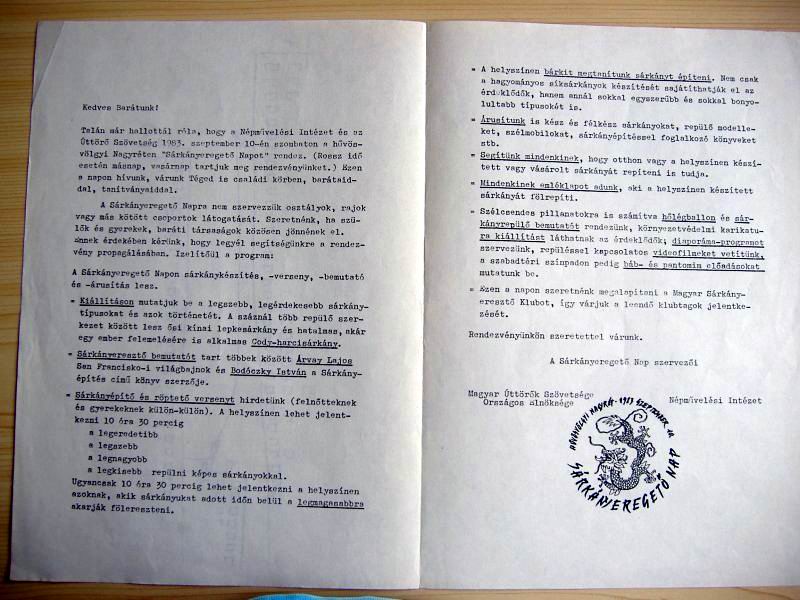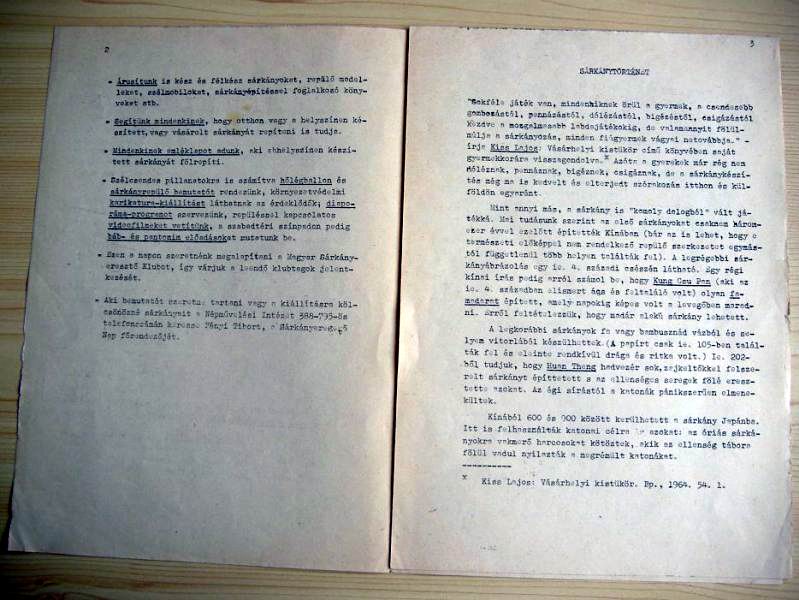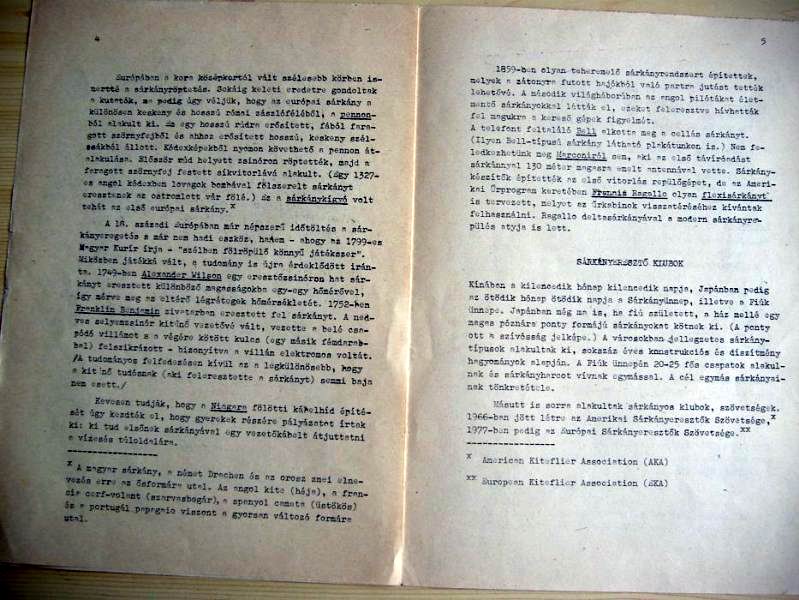 I collected some more documents in Hungarian and Serbian: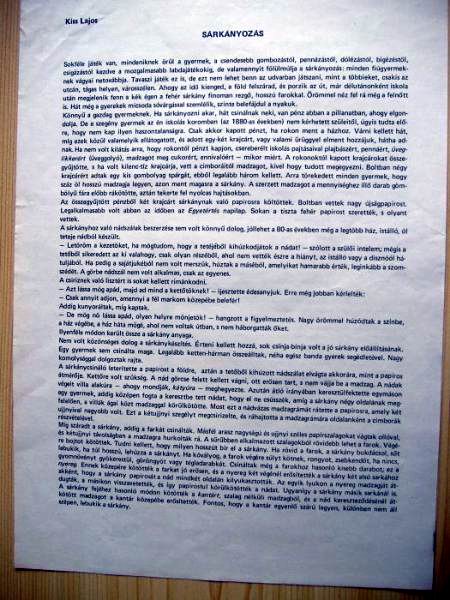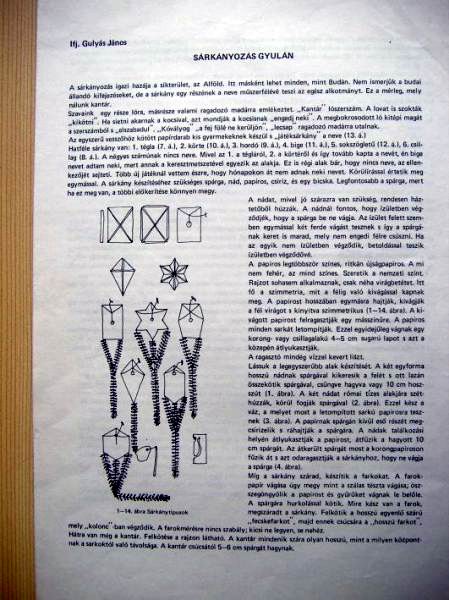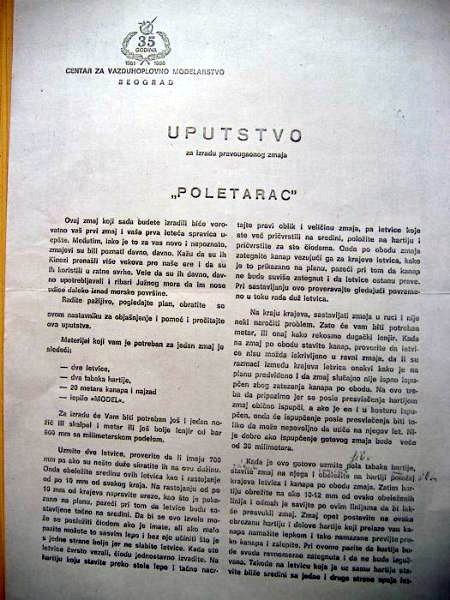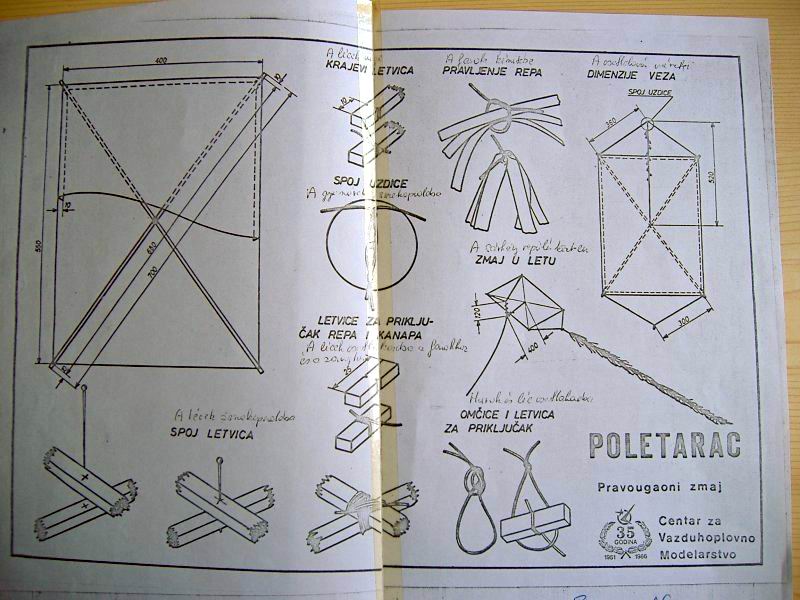 Much later, not long before I became a retired teacher, and being urged by younger pupils and a nephew of ours, I decided to brush up my konowledge about kites. It was already the Internet that surly could help me. And of course, I found a wealth of information out there; materials and kites never heard of - at least I've never heard of them. And I tried out those so far unknown materials.
Still I try to keep the cost as low as possible. You understand, don't you?
To introduce my kites, here are some of them: of paper (A4 sheet), Tyvek, newspaper, and last but not least toilett paper plastic bag.
1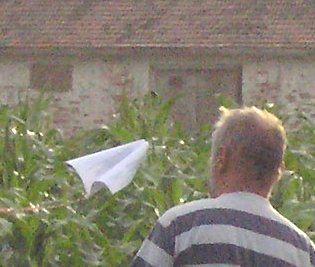 2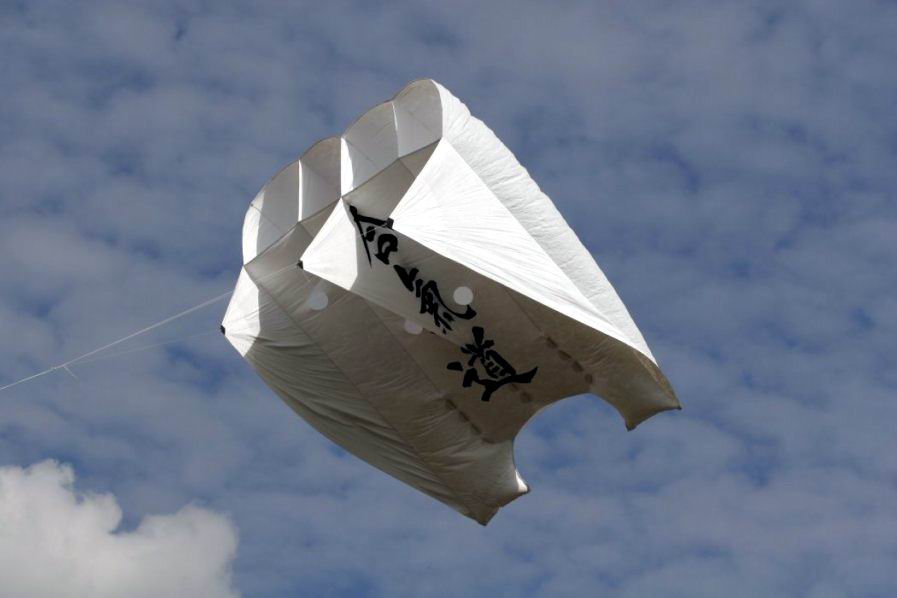 3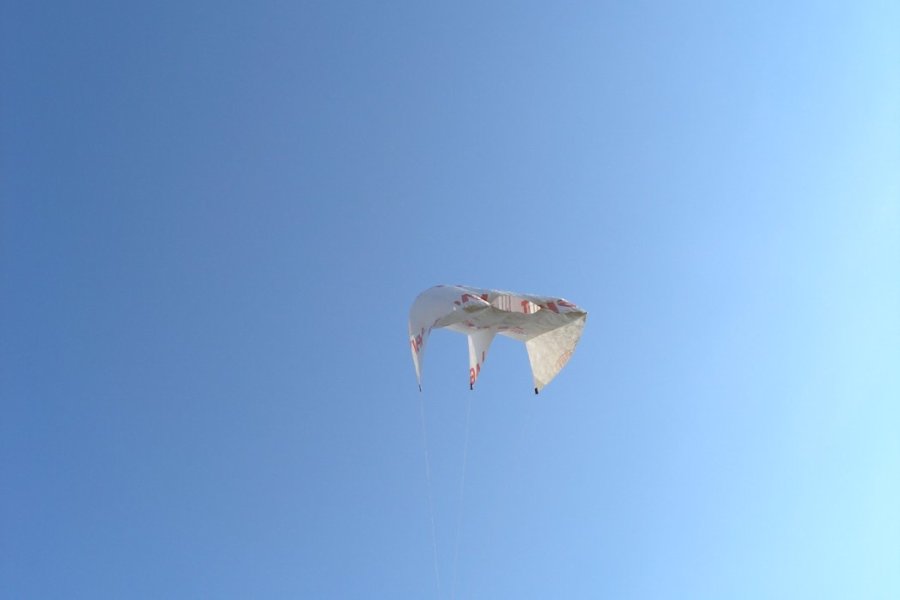 4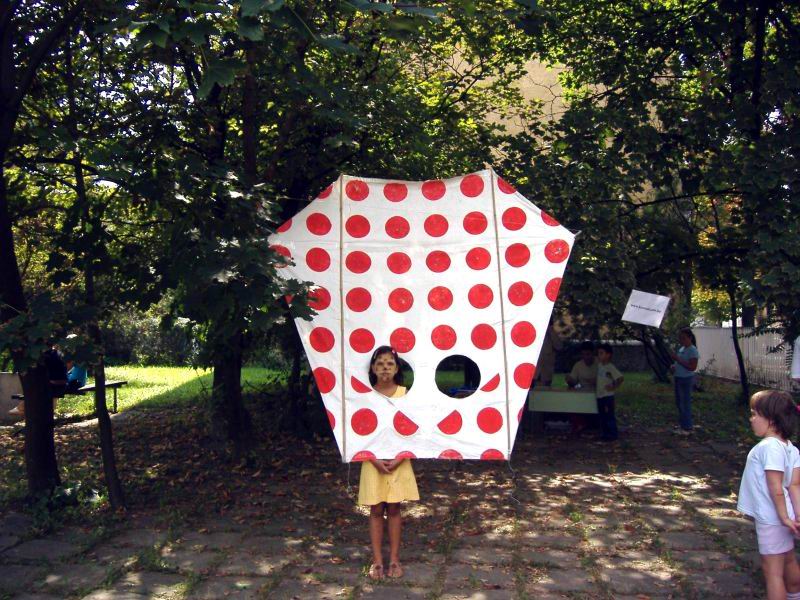 5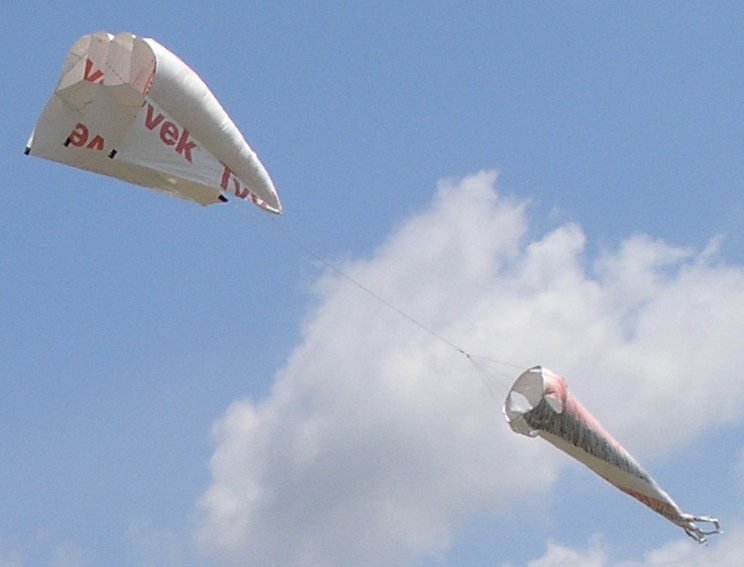 6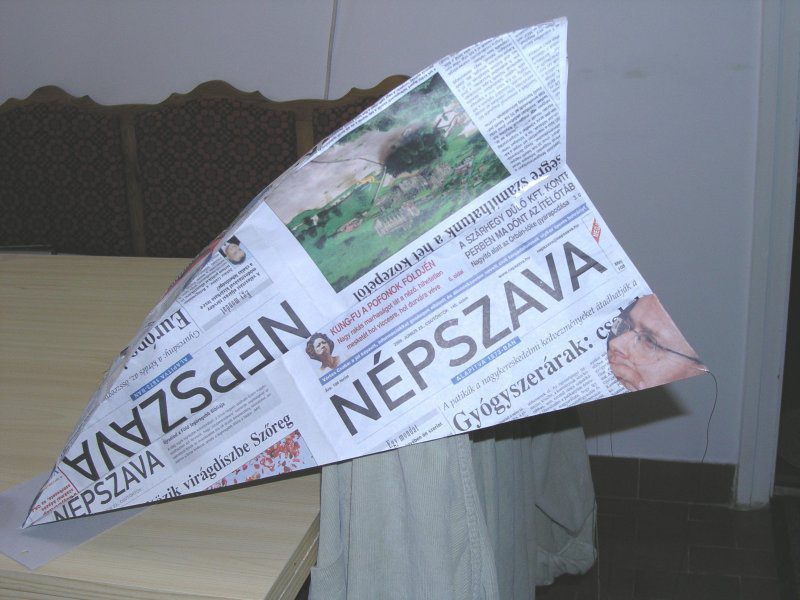 7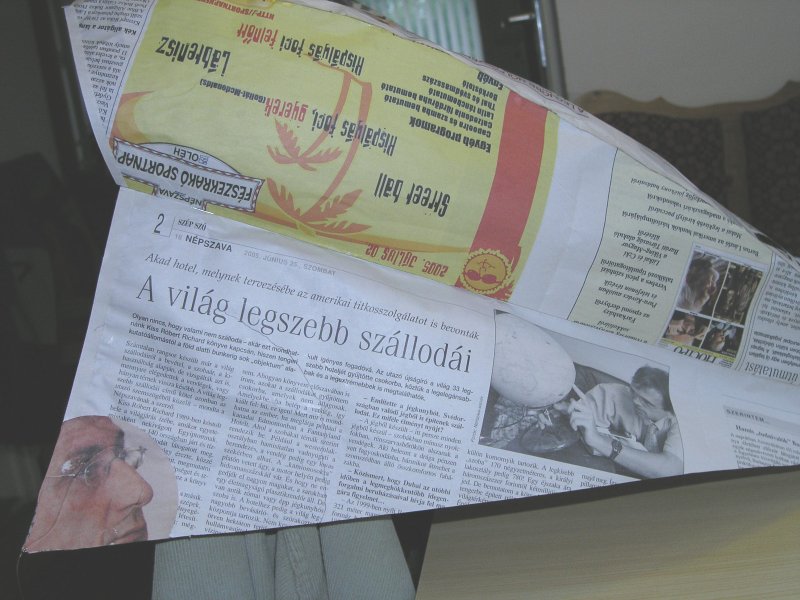 8
9
____________________________
3 Courtesy of Ferenc Navratil, (taken at the 15th PÁKOZD International Festival of Kites, 4-15May, 2005)
4 My favourite photo (Peter KÖVESSI)
---
Last modified: 25 Nov., 2007